Page 16 - CEAP Report Activities 2018
P. 16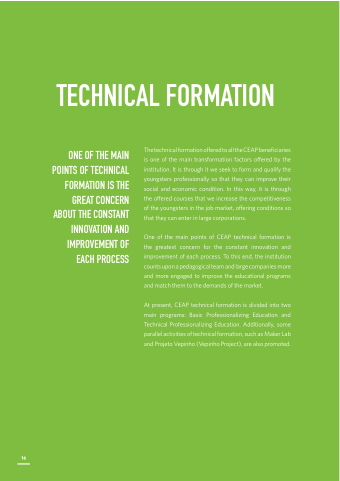 16
TECHNICAL FORMATION
ONE OF THE MAIN POINTS OF TECHNICAL FORMATION IS THE GREAT CONCERN ABOUT THE CONSTANT INNOVATION AND IMPROVEMENT OF EACH PROCESS
The technical formation offered to all the CEAP beneficiaries is one of the main transformation factors offered by the institution. It is through it we seek to form and qualify the youngsters professionally so that they can improve their social and economic condition. In this way, it is through the offered courses that we increase the competitiveness of the youngsters in the job market, offering conditions so that they can enter in large corporations.
One of the main points of CEAP technical formation is the greatest concern for the constant innovation and improvement of each process. To this end, the institution counts upon a pedagogical team and large companies more and more engaged to improve the educational programs and match them to the demands of the market.
At present, CEAP technical formation is divided into two main programs: Basic Professionalizing Education and Technical Professionalizing Education. Additionally, some parallel activities of technical formation, such as Maker Lab and Projeto Vepinho (Vepinho Project), are also promoted.